Friday, May 18, 2018
Thursday Bible Class - May 17 - 1st Peter
Love: Fruit of the Spirit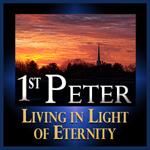 You've got to be kidding! Does God really expect me to love everyone? Listen to this lesson to learn that this love is not something we have to manufacture on our own. See that this is supernatural and is based on God's righteousness and justice. Find out that it can only be produced in us when we are walking by the Spirit. Learn what the Old Testament teaches about love. See how parents show Biblical love to their children by setting boundaries and how rearing good children is a way of loving your neighbor. Hear Paul show us that without love, everything we do in the Christian life is worthless.
Click here to listen to or view this Bible class.
Monday, March 19, 2018
2018 Chafer Conference Materials
Did You Miss Some of the Chafer Conference Sessions?
Or, Do You Want to Review Them Again?
All of the papers, presentations, video, and audio from the March 12–14 Chafer Conference is available for immediate access. Also, check out the additional resources that Shahram and others supplied during their presentations.
Don't forget to pass along this information to your friends who need to be aware of this eye-opening information.
Monday, August 21, 2017
New Video from The Museum of the Bible
Memorial Service for Gene Brown
You can listen to or view the memorial service for Gene Brown by clicking here.