Overview of the 2017 Conference
The Present Battle for the Bible: Inerrancy and Interpretation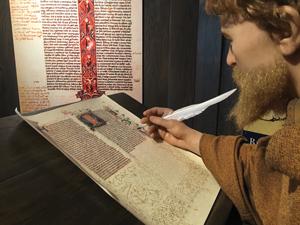 The annual Chafer Theological Seminary (CTS) Bible Conference is open to theologians, pastors, Christians, and students. It is a tremendous opportunity for all attendees to grow in their understanding of the Scriptures and to enjoy fellowship with other like-minded believers.
Recent analysis has shown that the vast majority of "conservative" evangelical scholars claim to hold to inerrancy, but in the opinion of one of them, if they were held to the standard of the Chicago Statement on Biblical Inerrancy, perhaps 95% of them would fall short.
Understanding these issues and the facts that support the inerrancy of the Scripture are crucial for any Christian. How one understands the extent of the authority and veracity of the text impacts everything from ­interpretation to application.
At the 2017 Chafer Theological Seminary Pastors' Conference, scheduled for March 13–15 (Monday–Wednesday), our two keynote speakers will each have four-part series that address these issues.
Don't miss this opportunity to hear and discuss these issues with our keynote speakers Dr. F. David Farnell, addressing "Critical Issues in Inerrancy," and Dr. H. Wayne House enlightening us on "Problems and Challenges on Interpretation".
Other presentations include:
Bennett Greenspan: "Are Modern Jews Descended from the Biblical Israelites?"
Mark Musser: "Theological Romanticism, Higher Criticism & Post-Modern Fascism: A German Odyssey"
David Roseland: "Scottish Common Sense Philosophy and Inerrancy"
Andy Woods: "Apocalyptic Genre and Inerrancy".
Additionally we will have lunch-time presentations by Jerry Greenspan with AIPAC and Grace Hensarling, a translator for Guatemalan tribes for a faith-based organization called SIL.
One session will feature a report and update on Chafer Seminary.
Chafer Seminary continues to move forward and we will also provide updates on our plans and the future. Please continue in prayer for our Chancellor, Dr. Meisinger and his health.